Connect with Tracy to answer your questions about what it means to be an Empath in today's world.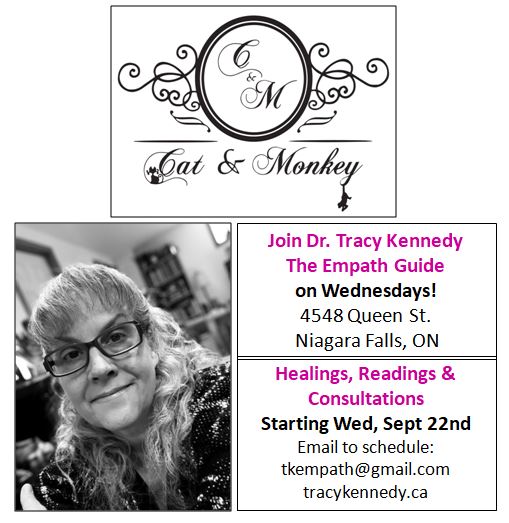 Energy Healing Session:
Tracy is a Reiki Master and creator of Empathic Energetics – a healing modality for Empaths. This is a 60 minute session that includes energy work on the body and feedback on what your body is telling Tracy. Tracy is able to psychically read emotional energy that is stored in the body, and she uses this as a tool to help you work through barriers and challenges in your life.
60 minute Energy Healing Session $90
*Please note that masks are worn during the session.
Empath Readings:
Tracy uses her Empath abilities to feel and relay psychic information, and to share insight from your deceased loved ones as a medium. Reading Emotions held in the body (both positive and negative), she provides guidance in identifying and releasing old patterns and ways of thinking that are not working for you. Tracy works with Spirit to provide you with what you need to know at this time for your journey.
30 minute Empath Reading $60
60 minute Empath Reading $110
*Readings are done in person and online via Zoom.
Ask an Empath – Consultation and Mentoring Sessions
This is a session that allows you to ask questions about your life (relationships, work, finances, health), and get feedback and insight from an Empathic Psychic Medium. This session can also be used for those who are seeking knowledge on how to progress with their own spiritual path or for those who are looking for some insight into their life purpose. Consultations can also include learning tools and skills to help you understand and navigate your intuitive and/or empathic gifts, help you learn grounding and protection methods, or to show you how to focus and enhance your psychic abilities. Mentoring is intended for those who feel they need guidance and insight with their path, and to set the groundwork for their spiritual work (usually more than one session). This is type of session is not a reading, but rather a discussion based on your needs at this time, with guidance from Spirit as always.
30 minute Ask an Empath Consultation  $60
60 minute Ask an Empath Consultation  $110
*In person and online via Zoom.

Distance Healing Sessions:
Tracy works specifically with emotional energy that is held and expressed in the physical, mental, emotional, and spiritual bodies, She identifies and helps release and clear emotional energies in the body that are not benefiting you in your life.
Distance healing with a 45 minute real time feedback & reading on Zoom following the healing $85 . Tracy conducts the healing session prior to the Zoom call. You are encouraged to sit in a relaxed state 15-20 minutes before we start the Zoom call.
Distance healing with 15-20 minutes recorded feedback (a link will be sent to the client) $55. This session is also scheduled.
Email Tracy to schedule.